Just under one week until Halloween and if you're anything like all the other multitasking women in this Country, the house is a mess decorated, the pumpkins are on the porch carved and your kids costumes are no where to be found set and ready to go. As for your costume, you don't have one because you've convinced yourself you won't dress up this year. Which sounds like a good plan until a few days before Halloween when you see those big wide eyes looking up at you… "what are you going to dress up as this year mom?" or you get that last minute invite to the neighborhood bash. Cue throwing together a last minute, (hopefully) cute Halloween costume.
You could easily spend $100 at a Halloween store on a marginally appropriate, flimsy piece of fabric costume that you'll only wear once. Or you can hit up your own closet to create the most spectacular costume everyone will fawn over (pun intended) and the best part is you won't waste money on something you will never wear again!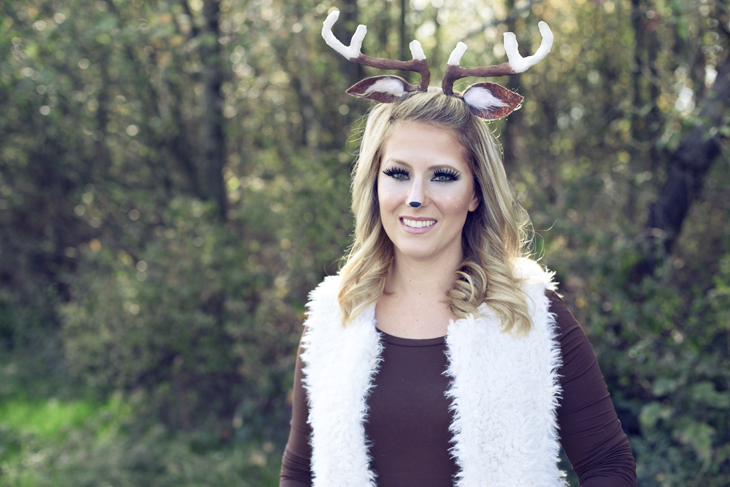 To achieve this fashion inspired fawn Halloween costume, we used some of the most loved items from Silver Icing's Fall collection. We started with the Tummy Control Leggings in Chocolate, paired it with the Julie Top in Brown, layered it with the Sheepishly Yours Vest in Ivory and finished the look with the Lady Boss Boots in Black.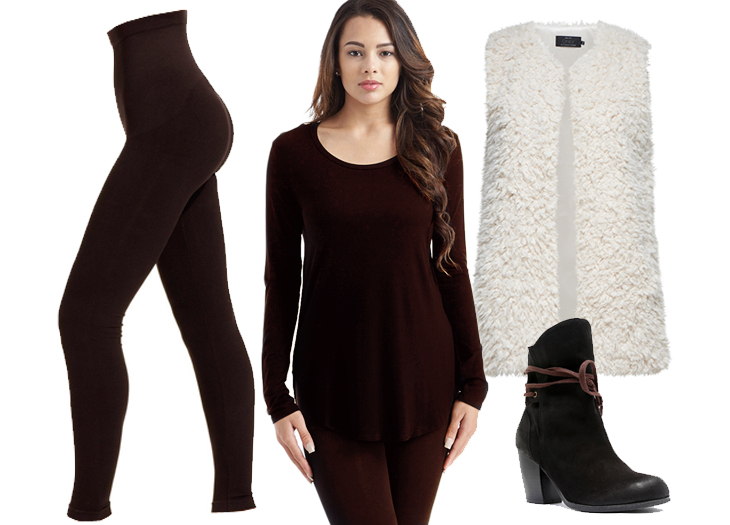 The makeup was relatively easy and the whole application only needed a few components which can be found in most makeup drawers:
Brown cream face paint mixed with a regular foundation
White liquid highlighter but white face paint would also work
Brown eyebrow pencil
Black liquid eye liner
Fake Eyelashes
Light pink/neutral lipstick
Blending sponge
Start with a base layer of regular foundation across the whole face. Apply the white around the eyes in the shape you prefer and slowly start to add the brown outside the white area. The trick to all of this is to blend!! Get a good blending sponge and blend away. If you blend off too much of the white or brown just reapply and keep blending.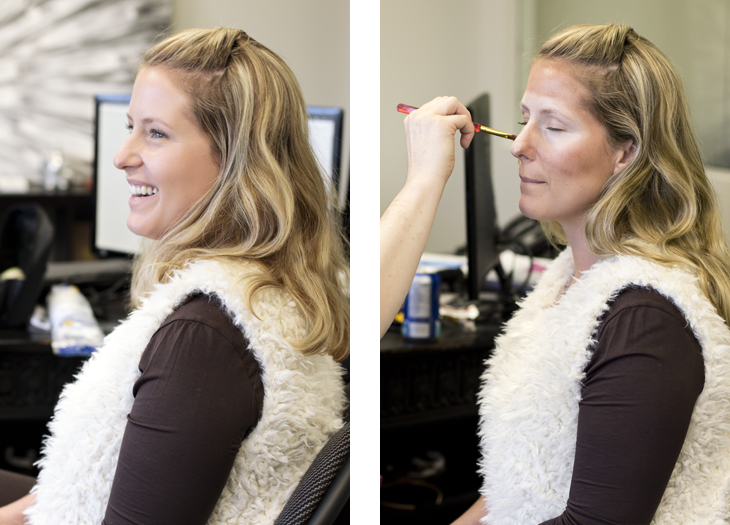 Darken your eyebrow with a brown eyebrow pencil and draw a line from the edge of your eyebrow down the side of your nose, blend!! This will accentuate the nose and help give the elongated deer-like look. Apply dots on your cheeks and blend!! Use a liquid eyeliner and draw a line on the top of your lid that extends out the side into a point. Make sure to touch it up after you apply the fake eye lashes. Use the same black liquid liner and paint a black area at the tip of the nose.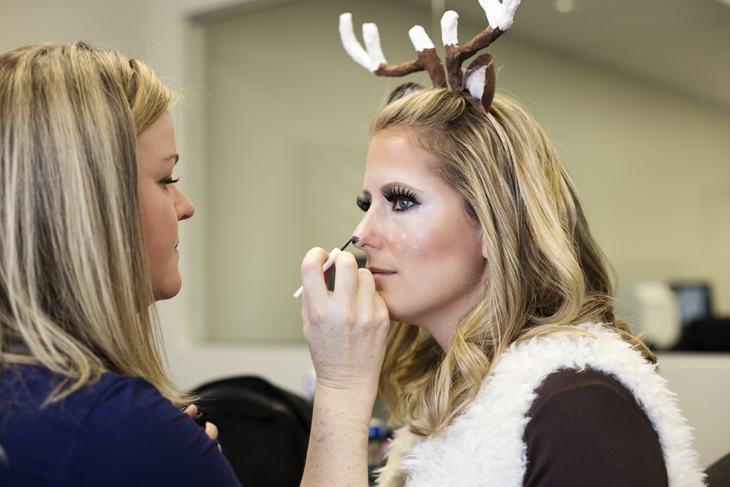 The antlers were made by forming tubes of tin foil and then wrapping them in paper mache. We opted to use plain white paper for the paper mache since you don't need to paint it as much. Newspaper print can take a few applications of paint before the text disappears. Once dry we painted them using a dark brown, light brown and white paint. We attached the antlers to the headband with hot glue and secured it with green floral tape which we painted brown. The ears were made from brown felt and fake white fur and secured with hot glue. Voila, 24 hours later we had ourselves a light but sturdy pair of Antlers.
Put all the pieces together and you have yourself a pretty wicked Halloween costume that's fun but also stays true to your inner fashionista and a great excuse to buy yourself a new outfit…. "It's an investment, I will wear it all year honey"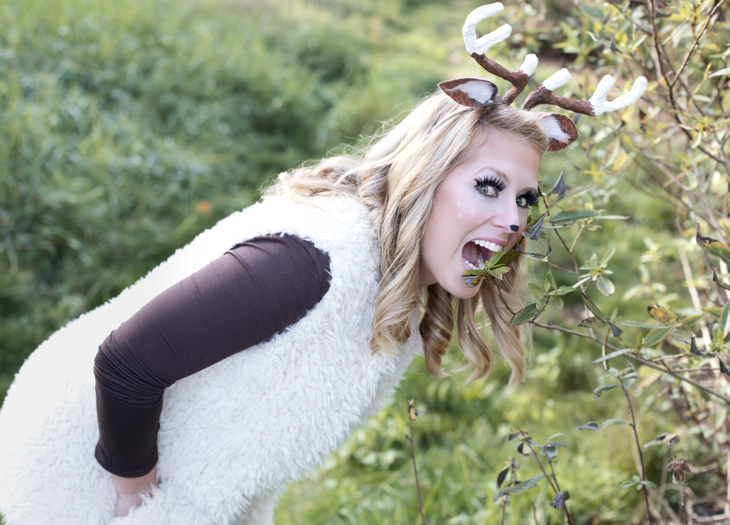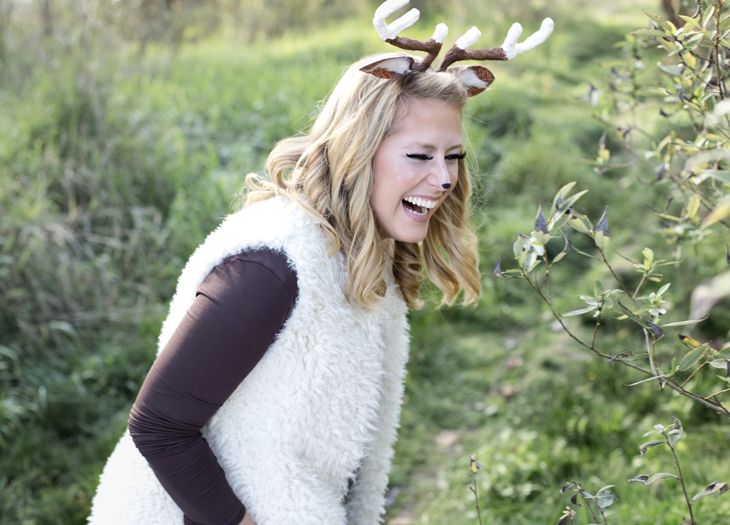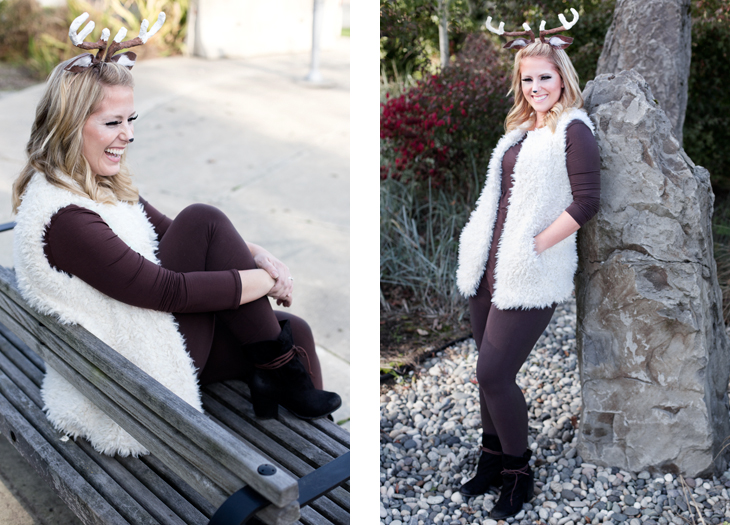 So go ahead and have a little fun with it, strut your stuff and if nothing else, have a Fawn'tastic Halloween!