What's the first thing that comes to your mind when someone says the word VACATION?!
For me, I think Disneyland!! 🤩 …seriously though, my initial excitement is quickly followed by thoughts of long airport lines, my kiddos limited attention spans and a teeny tiny sprinkling of stress… 😬
The good news is I'm going to share the tips and tricks that I've acquired along the way, from experiences traveling with one child to now with three! Here's my guide on how to achieve "almost-stress-free" travel with your family!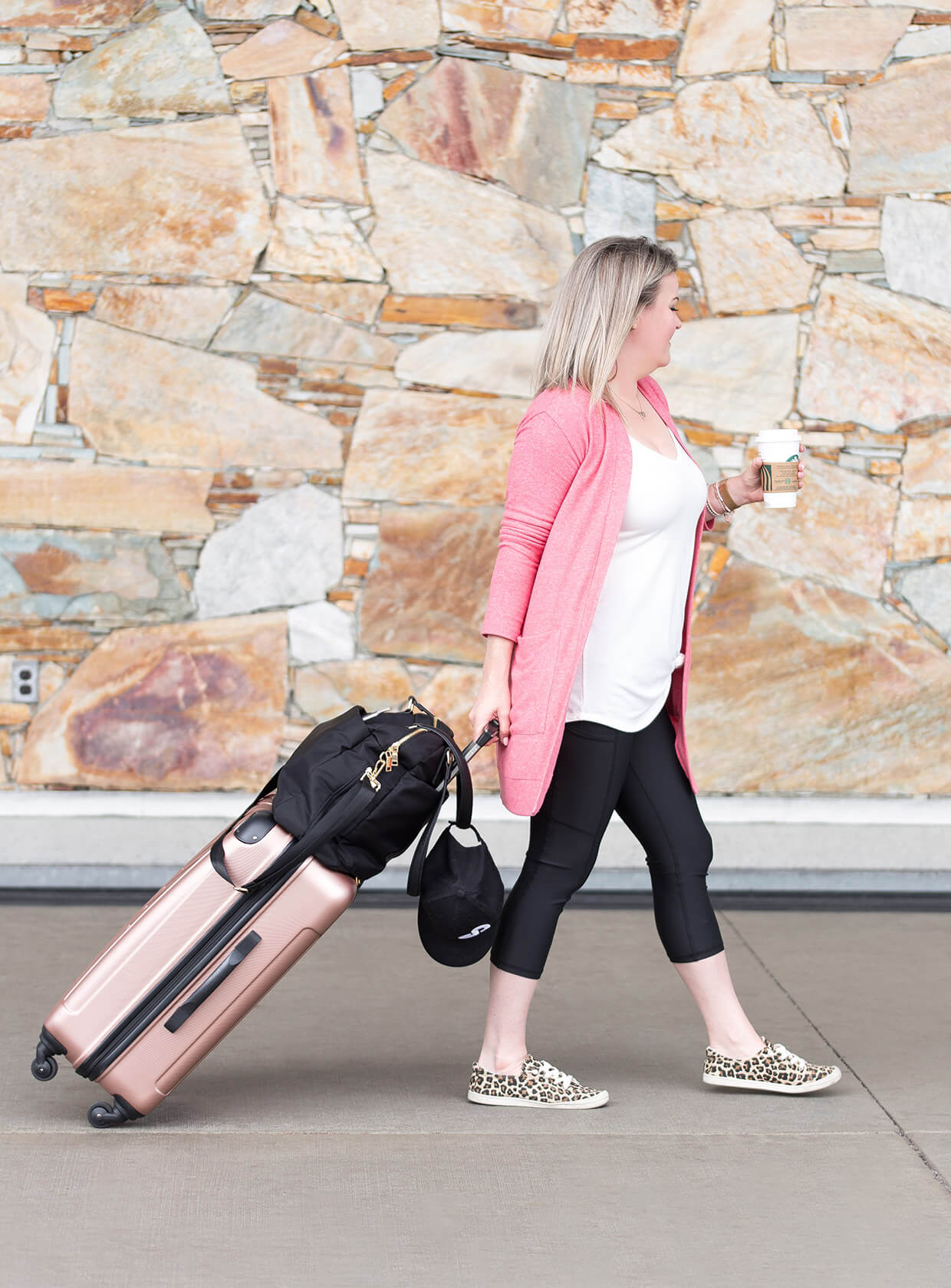 When I am traveling, comfort is key but comfort doesn't mean you need to sacrifice style! Extra bonus points for you if it's functional style! 🙌
Hero Crops – I love these crops for so many reasons but when it comes to the right travel companion, they cant be beat! The 12″ waistband doesn't dig in while I'm sitting on a plane for long hours and offers the flexible comfort I need while lifting heavy luggage on and off conveyor belts or in and out of overhead compartments! The pockets 😍 No more panicked shuffling through my carry on or purse! My cellphone on one side, (with our boarding passes loaded and ready to go) and passports in the other!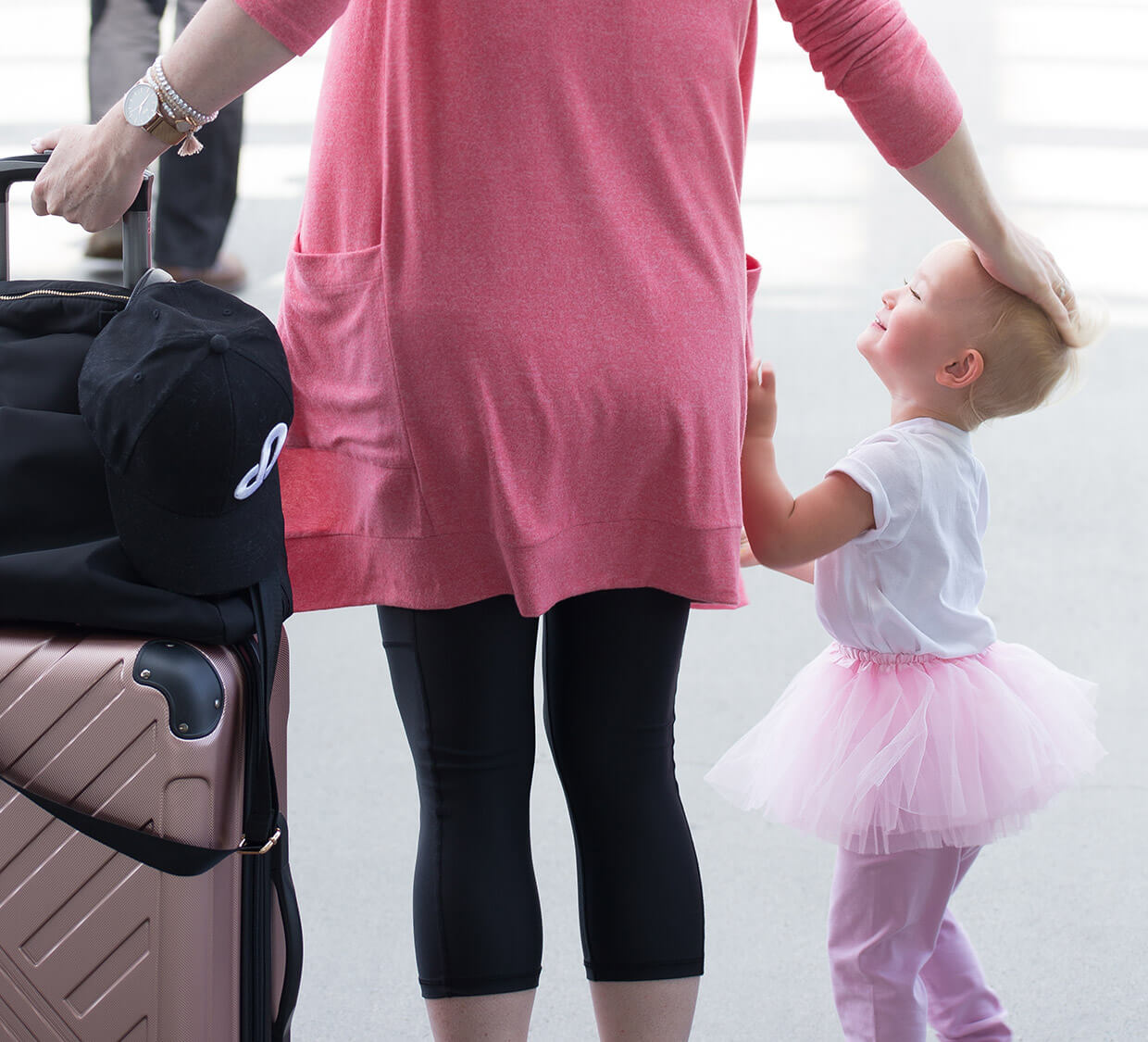 Be Free Cardi 🐿️ …this cardi makes traveling from a cool climate to a hot one possible! It's lightweight but cozy and this colour says "I'm ready for some fun in the sun!" AND it's versatile – when the air conditioning on your flight becomes too much to handle, its the perfect blanky for the kids to cuddle up under so they stay happy and *quiet* during the whole in-flight movie. 😜
Spin Me Right Round – Let's be honest, traveling is stressful and no matter how much extra time you try to give yourself, it's still not enough! And in your haste to get your final (or first 😉) sip of coffee, accidents are almost guaranteed to happen! But with this top, I can literally spin it around and carry on with my day, stain free… and nobody is the wiser!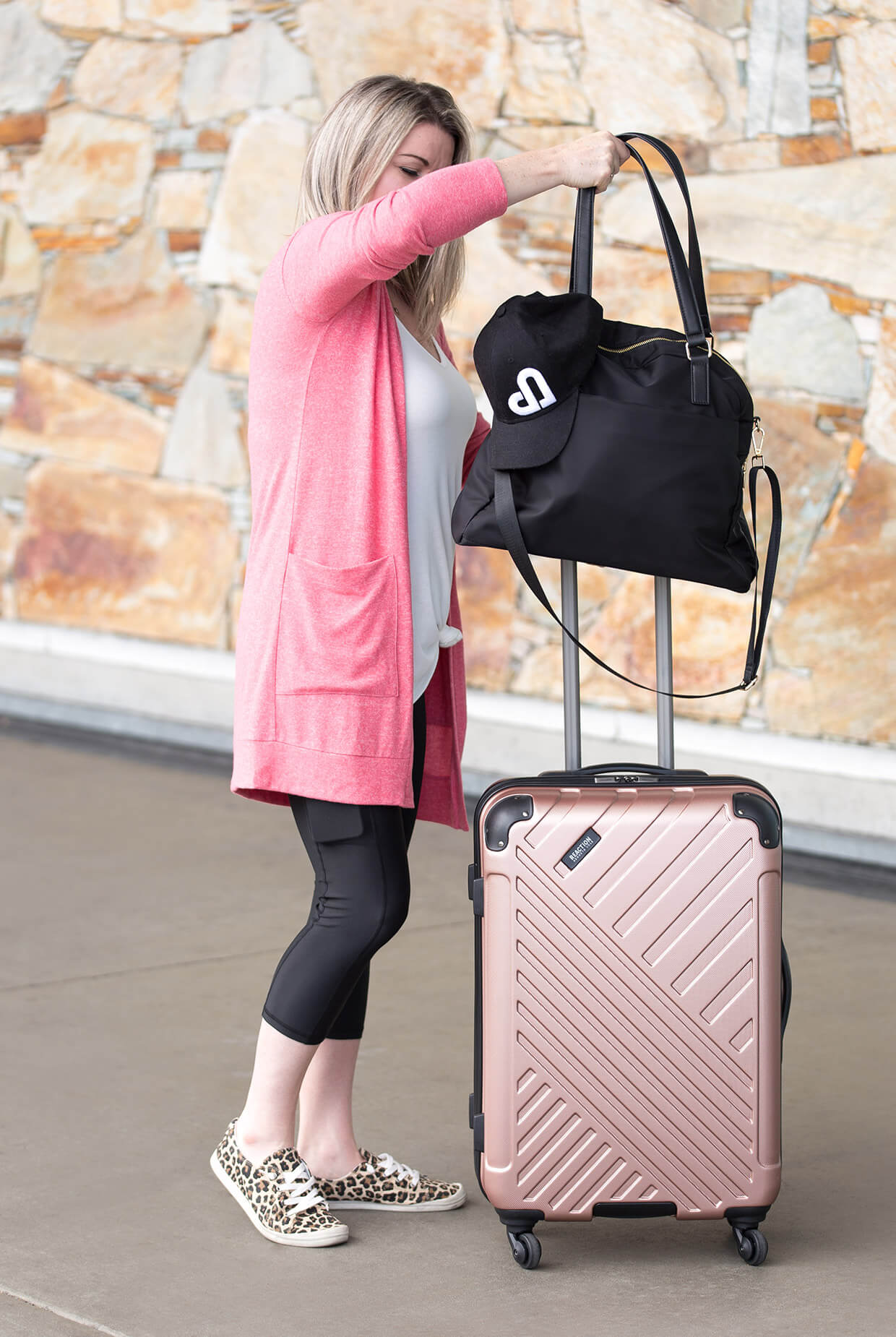 Let's Kick It Leopard Sneakers – Simply put, the perfect travel shoe. I am not distracted by laces or zippers, instead I am able to easily slip them on and off, allowing me to fully focus on corralling the troops, (aka my kids) and finally make it through security. And almost an equally important detail is the leopard print itself! It certainly adds a pop of personality to a typically not-so-interesting airport outfit. 💁‍♀️ The ease of wear is one thing, but the comfort cannot be overlooked – whether I am walking through a gigantic airport or from one side of Disneyland to the other, these sneakers are my go-to shoes!
Lift Off Travel Bag – This bag is a GAME CHANGER!! Being exposed to all different travel situations (airport floors, hotel room floors, all the floors… 🤢) this bag is durable but chic! The material is easily cleaned and any spills or messes are simply wiped away. The gold zipper pulls elevate the look and it becomes a high-end accessory to complement your travel style. Something else I love about this bag – is it's secret functionality! Am I the only one who gets excited about things like this?! Unexpected functions that make you feel oddly proud and clever when you are using them?! 😏 Unzip both ends of the outside pocket and then slip this bag onto your extended luggage handle. Voila!! This conveniently helps to keep your luggage and sanity intact! 😂

Hot Hair Coil Hair Tie – When all else fails and it's time to get serious, I use the hot hair coil hair ties to tie up my hair. These hair ties are a tangle free, ultimate messy bun accessory.