Vero Moda
Wall Street Jacket
Talk about sophisticated style! This zip-up coat is so classy, perfect for wearing to the office or over a dress for a holiday party. It contains wool so it will keep you warm, and it has a funnel neck style when fully zipped up. It also has a belt if you prefer a more fitted look at the waist.
• Zipper closure
• Fold over collar
• Snap at top of collar to secure
• Fully lined long sleeves
• 2 stitched side pockets (carefully cut stitching with scissors)
• Fully lined body
• Belt detail
• Heavy weight coat
• Fabric (shell) 60% polyester, 30% recycled wool, 5% acrylic, 2% viscose
• Fabric (lining) 100% recycled polyester
• Measurements approx. (size S) 24.5" sleeve, 39" length
• Kim is wearing the size S
• Allison is wearing the size XXL

---
Fabric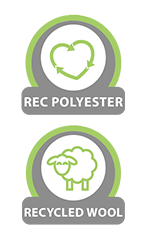 This product is made form a blend of two organic fabrics; recycled polyester & recycled wool. Recycled polyester is crafted by turning plastic into yarn. The production of this innovative fabric diverts plastics from landfills, prevents bottles from ending up in our oceans, and significantly decreases greenhouse gases emitted by the production of virgin polyester. Recycled polyester requires a lot less energy and water to manufacture and can continuously be recycled, without losing any of its quality. Recycled Wool or "reclaimed wool" is exactly as it sounds; wool that been recycled from one product then turned into another! Wool garments have a long lifetime and can stay in circulation and be reclaimed for up to 30 years and often longer. This reduces textile waste and helps the environment as the wool fibers are put to further use.