Only
Destination Vacation Cami
This beautiful cami is going to become one of your favourite cami tops you have ever owned. With a crêpe fabric material, it will feel so comfortable on your skin, we know you'll feel like a vacation as soon as you put it on!
• V-neck
• Sleeveless
• Adjustable straps
• Opened back detail
• Textured, crêpe fabric
• Rounded hemline
• Fabric 97% polyester, 3% elastane
• Measurements approx. (size 36) 18" length (top of shoulder triangle)
• Kim is wearing the size 36
• Brianne is wearing the size 42
• Allison is wearing the size 44 (Patterned) 46 (Solid)

Brianne
WOW! It has been so long since I've tried on something I want in every single colour. This cami screams, "Look at me" in the best way! It sits well on the body, the lightweight material is free-flowing and doesn't cling at all. Not to mention each colour is bold and vibrant- sooo beautiful! I love that this top is tuckable but also sits nicely when worn "as is". The detail of the strap across the back is so flattering, and the adjustable straps are a plus. I think this can be worn all year long under a cute cardi or worn alone in the warmer months, as well as all day long from work to dinner. Pair it with a cute accent necklace and you are golden! Although the material doesn't have much stretch it is forgiving especially in the armpit/ bra area- which you don't find often with dressier tops! I am wearing a size 42, which I think is a true to size fit.

Allison
This is an absolute closet staple!! It is the perfect pop of colour and cami to layer with! I love that it has a v-neckline and adjustable straps as well! These colours are just SO fun - I can't choose which to get! There is no stretch in this top, and I felt like the 44 was just too fitted at the bust, so I chose to go with the 46!

Kim
Oh I looove this piece! Total spring/summer staple in my mind! The material is textured, straps adjustable and the perfect length to do a little French tuck with! The material is not super stretchy but I don't find it tight across my chest like some camis. I can wear both the 36 and 38. The 36 is fitted across my chest and the 38 offers a looser fit across the chest and under the armpit. I like both! I would say size up if you are busty or want it a bit more flowy.

Shop The Look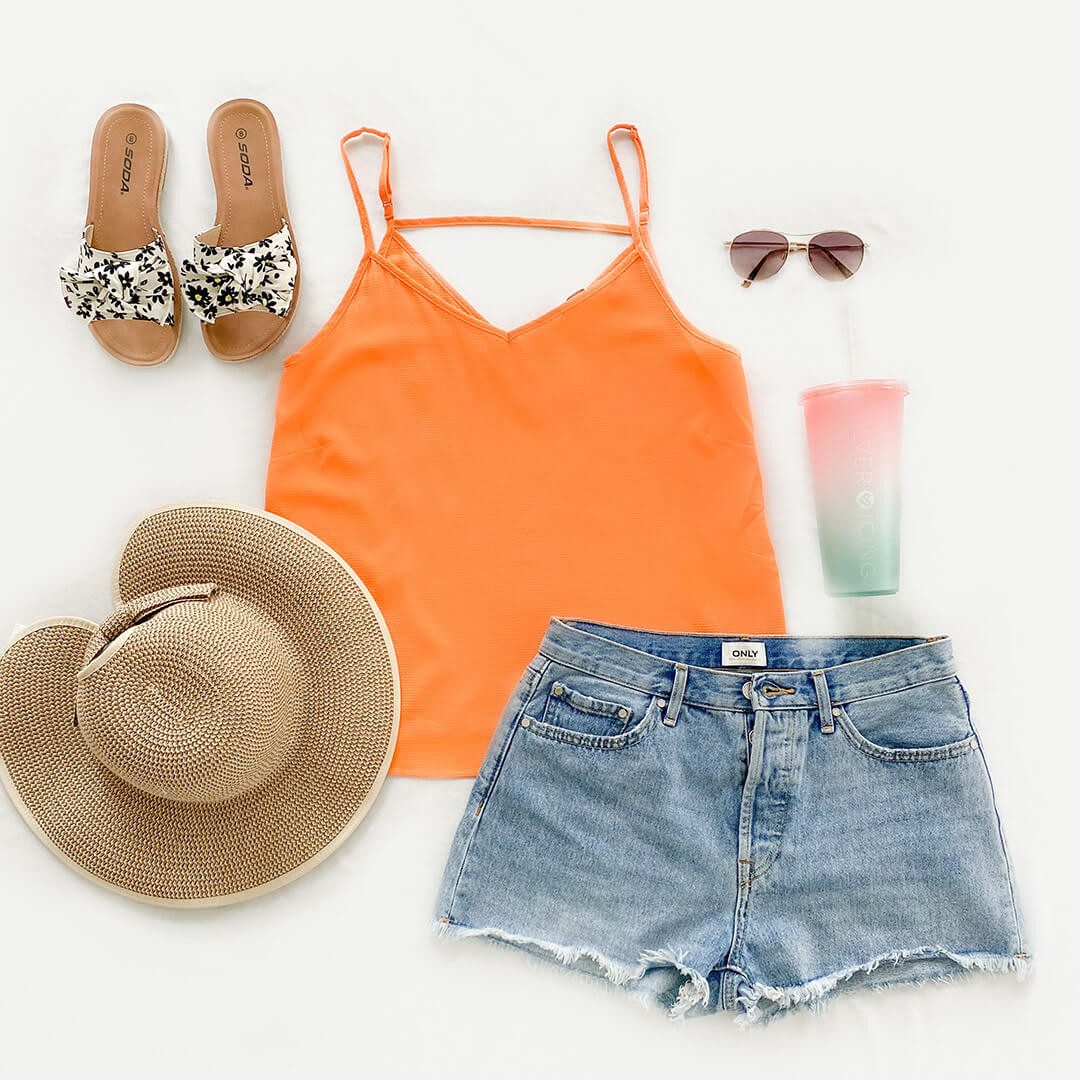 Featured on Spotlight
Hello Sunshine Sale Sneak Peek
Hello sunshine, hello savings! Our Hello Sunshine Sale is coming soon, and we're bringing you the best deals on this season's hottest fashion. Get rea...
View Spotlight